Office Design Ideas & Trends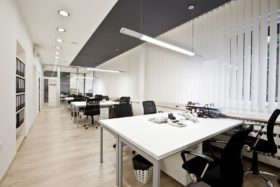 Since the days when corporate offices were a modern phenomenon, the work culture has progressed tremendously.
Years of seeing the results of office life on the overall wellbeing of people have sparked many new developments in the design of offices. Interior designers have proven to be truly creative in their design solutions, as have designers for office furniture manufacturers. Whether designers are helping a start-up company to work better or planning a complete office building for Fortune 500 companies, these ideas, and trends in office design work in a wide variety of interior design projects.
1. Open Floor Plans
Fewer walls are a lovely sight to be seen in modern office design. Creating more views across multiple spaces encourages collaboration, allows for more accessible floor plan changes when needed, and is cheaper to design because less dividing walls have to be built. Overall it is a step towards improving employee safety. An open floor plan also makes it easy to get around so people are encouraged to move more frequently.
2. Multipurpose Spaces
Collaboration and versatility help to function well at the modern office. Office design which serves multiple purposes helps to get the job done well. Effectively it can keep up with today's fast-paced environment and demands.
3. Modern Integrations in Furniture
Furniture which provides for everyday life makes it easier to work. Connecting with energy and the internet keeps us all alive and efficient, but it's not always pretty.
Desks and work areas that integrate technology successfully and seamlessly while concealing how unbecoming it has a form that serves a big purpose.
4. Natural Elements
Biophilic architecture is a discipline-based, and with good reason, on the integration of natural elements into the built environment. In interiors, designers can not imitate natural sunlight. They can also decorate with plants, adding in a natural dimension.
It has been shown that plants increase productivity and make a workplace more attractive, thus attracting more employees into the company. The office above uses orange pipes as both a decorative element and as an inherent pathway.
5. Window Views For Everyone
Accessing a windowed office used to be a privilege only acquired by a few. All else had to resort to artificial dreary lighting and be confined for the entire day. Removing the link between job title hierarchy and workspace quality has created a less mentally demanding, and more beautiful work atmosphere in modern office design. Translucent or transparent walls encompassing central rooms allow the light into their workspace. Now, everyday workers are exposed to light and views to the outdoors. That is very necessary for healthy and engaged employees.